Books
Encounters Student Book 1 (ISBN: 978-0-300-16162-5) is the primary text of the course. Neither a textbook nor a workbook, it is what we like to call a "working book". It consists of 10 units and an introduction. These units are complete with learning material, instructional exercises, and vocabulary review. The Annotated Instructor's Edition (ISBN: 978-0-300-16166-3) is filled with teaching suggestions, activities, and answer keys.

Character Writing Workbook 1 (ISBN: 978-0-300-16170-0) is an ancillary workbook that focuses on teaching a student's learning of simplified and traditional characters. There are 10 units in the Character Book, which correspond with the 10 units of the main text.

Screenplay 1 (ISBN: 978-0-300-16605-7) offers a transcription in English, pinyin and simplified characters of the dialogue in each of the 10 dramatic series videos on the Encounters website. Traditional characters will be included in future reprints and in Screenplay 2 for movie units 11-20.

The Encounters web site, www.encounterschinese.com.cn, is the centerpiece of the program. With designated sections for teachers and students, the Encounters site has audio and video material for each unit in Student Book 1, including 10-15 minute chapter videos from a feature-length film that was recorded on site throughout China specifically for the Encounters program. Students follow a diverse cast of characters as they experience life in today's China, interact with other students, and learn Chinese.

The Encounters DVD Lab Pack 1 (ISBN: 978-0-300-17565-3) contains all of the audio and visual content currently available on the Encounters website for Student Book 1.

Place your Encounters order now, and begin a unique journey into Chinese language and culture.
Order Yours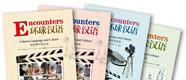 Request complimentary Sample Unit and obtain access to the audio/visual media on the website.
Click here