About Encounters Class Testing
Welcome to the online Class Test Center, which represents one of the many ways in which Encounters is setting a new standard for language instruction. The Center provides easy, early, and ongoing access to the program's rich resources. It also offers several ways for instructors to share suggestions and comments so Encounters can better meet their needs and the needs of their students.
Most publishers don't offer Class Testing on the web, but as you can see from the summary below, it's as easy as 1-2-3-4! Instructions are available at each step of the process to guide you. There is also a "Need Help?" link at the top of every page of the Class Test Center.
How to Register for Class Testing
If you already have an account, log in and go to the "Edit" tab of your "My Account" page. Scroll down and select the version of class testing in which you want to participate. Participants in the Class Test must be validated by the institutions where they teach. The Encounters team wll authorize participants in the Class Test.

If you have not already done so, you will first need to create an Encounters website account.

Click here to create an account.

Access Content
Once you receive a confirmation email, login and click on the Class Test. After you've logged in, you'll be able to view a wide range of text and audio-video content available for class testing.
Use Content
Once registered and logged in, you will be able to:
· watch cultural and video segments
· listen to podcasts and rap songs
Participants in the Class Test will receive three units from Student Book 1 and its Annotated Instructor's Edition.

How to Comment
Your observations will be essential and most welcome as we continue to improve the Encounters program. You can share your comments by emailing the Encounters Team at encounters@sinolingua.com.cn.

Welcome to Encounters!



Place your Encounters order now, and begin a unique journey into Chinese language and culture.
Order Yours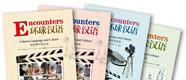 Request complimentary Sample Unit and obtain access to the audio/visual media on the website.
Click here