Welcome to the Encounters discussion forums! These forums are exclusively for Chinese Language Instructors who are using Encounters in their classroom or are considering adopting Encounters. Here you will be able to share information about your experiences, ask technical questions, discuss classroom activities and more.
| | |
| --- | --- |
| This forum is dedicated to general questions and discussions about the Encounters: Chinese Language and Culture Program. In this forum instructors are encouraged to post questions and topics about the website, the Student Books and ancillary publications, the dramatic series and other audio/visual exercises, etc. | 19 |
| This forum is for instructors who have questions and comments about adopting Encounters for their respective Chinese courses. This is a space for interested instructors to ask existing Encounters Instructors about the program or about why they chose Encounters. | 17 |
| This forum is for Chinese language instructors to discuss the benefits and methodology of a communicative approach to language learning. | 9234 |
| Now that you have adopted Encounters, how do you use it in the classroom? This is a forum for instructors to ask questions and share tips on how best to integrate the Encounters multimedia program into daily classroom activities. | 9 |
| This forum is dedicated to online resources for Chinese language instructors and students. Here is a space for instructors to post links to online dictionaries, conference websites, learning tools, etc. | 9 |
| This forum is for instructors to post any technical questions they have related to using the EncountersChinese.com website or streaming video and audio components. | 7 |

Place your Encounters order now, and begin a unique journey into Chinese language and culture.
Order Yours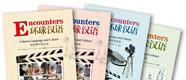 Request complimentary Sample Unit and obtain access to the audio/visual media on the website.
Click here