The Publishers
China International Publishing Group (CIPG)and Sinolingua:
Founded in 1949, CIPG is the premier publisher of foreign language media in China, producing more than 3,000 books and 30 print and online magazines a year in more than ten languages. The Group has 12 branches overseas, and its publications are available in more than 180 countries. Since its founding, CIPG's business has expanded to include websites, printing, and book distribution services as well as book and magazine publishing. Sinolingua Co., Ltd., a member of CIPG, was founded in 1986. It is one of the first publishers in China to specialize in Chinese language teaching and learning materials for foreigners, and remains a prestigious brand in this field. For more information, please
click here
.
Yale University Press:
Founded in 1908 and part of one of the world's leading research universities, Yale University Press is one of the oldest and largest university presses in the United States. Based in New Haven, Connecticut, with offices in London, England, as well, the Press publishes more than 400 books annually in a wide range of disciplines, including art, history, politics, religion, literature, science, philosophy, and many other fields. Its foreign language program features widely used textbooks on Arabic, Chinese, Spanish, Italian, Hebrew, and French. For more information about the Press, please click here. For more information about Yale University please
click here
.

Place your Encounters order now, and begin a unique journey into Chinese language and culture.
Order Yours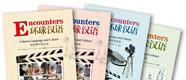 Request complimentary Sample Unit and obtain access to the audio/visual media on the website.
Click here