The Movie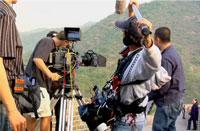 Film Crew, Wall of China
At the heart of the Encounters program, the Encounters dramatic series transports the viewer directly to the cities and villages of this vast nation. Filmed on location in Beijing, Qinghai Lake, Shanghai, Suzhou, Xi'an, and Yangshuo, these episodes show authentic scenes from daily life across China.
The engaging storyline weaves through the lives of eight main characters as they are swept along in the flow of their individual adventures. As their lives entwine in unexpected ways, these characters make discoveries about themselves and each other, about Chinese culture and customs, and about communicating with strangers as well as friends.
Episodes entice students to watch and learn more as more Chinese is progressively introduced and linked with corresponding lessons and activities in the textbook and online materials.
| | |
| --- | --- |
| | |
| (Running time: 2.04 minutes) | (Running time: 13.01 minutes) |

Place your Encounters order now, and begin a unique journey into Chinese language and culture.
Order Yours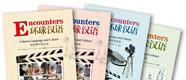 Request complimentary Sample Unit and obtain access to the audio/visual media on the website.
Click here