The Web
The Encounters website offers students and teachers an array of materials and activities, including interactive exercises, streaming video and audio content, and other resources for speaking, reading, and writing Chinese.

Robust audio activities assist students with listening comprehension, pronunciation, vocabulary, and model conversations. Online media enhance the learning and teaching of Chinese by providing an engaging experience that is powerful yet intuitive and easy to use.




Place your Encounters order now, and begin a unique journey into Chinese language and culture.
Order Yours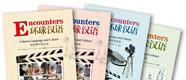 Request complimentary Sample Unit and obtain access to the audio/visual media on the website.
Click here