Characters & Story
Our story takes place in China, where history teaches us that almost anything is possible....

As the story begins, Lynn, an American English teacher, arrives in a small town in southern China to begin her new job, while Li Wen – the teacher she will replace – prepares to move to Beijing.

In Beijing, Li Wen's fiancé, Chen Feng, and his best friend, Xiao Mao, struggle together to make their company successful in the competitive world of business in modern China.

Far to the south, Mick – an Australian traveler – explores the country's highways and byways by bicycle, searching for the "perfect cup of tea."

Tang Yuan – a talented young Chinese artist living in Yangshuo – searches for a way to follow his dreams, and at the same time seeks to meet his family's expectations.

Alejandro – a Latino photojournalist from the United States – undertakes his first major assignment in China, while his Chinese American wife April searches for connections to her Chinese heritage.

Through these characters and their stories we will see and experience many of the diverse aspects of life in modern China, and we will have the opportunity to begin to learn the language and to develop an understanding of the Chinese people and their culture.



Place your Encounters order now, and begin a unique journey into Chinese language and culture.
Order Yours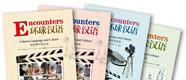 Request complimentary Sample Unit and obtain access to the audio/visual media on the website.
Click here