This forum is for instructors to post any technical questions they have related to using the EncountersChinese.com website or streaming video and audio components.

Place your Encounters order now, and begin a unique journey into Chinese language and culture.
Order Yours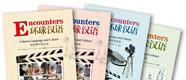 Request complimentary Sample Unit and obtain access to the audio/visual media on the website.
Click here