This forum is for instructors who have questions and comments about adopting Encounters for their respective Chinese courses. This is a space for interested instructors to ask existing Encounters Instructors about the program or about why they chose Encounters.

Place your Encounters order now, and begin a unique journey into Chinese language and culture.
Order Yours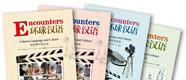 Request complimentary Sample Unit and obtain access to the audio/visual media on the website.
Click here