This forum is dedicated to general questions and discussions about the Encounters: Chinese Language and Culture Program. In this forum instructors are encouraged to post questions and topics about the website, the Student Books and ancillary publications, the dramatic series and other audio/visual exercises, etc.

Place your Encounters order now, and begin a unique journey into Chinese language and culture.
Order Yours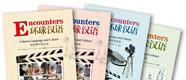 Request complimentary Sample Unit and obtain access to the audio/visual media on the website.
Click here